Good Practices for Sustainable Cruise Tourism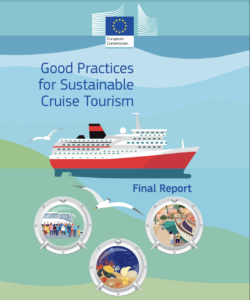 The European Commission has published its Good Practices for Sustainable Cruise Tourism Report which takes an in-depth look at the cruise industry and sustainable tourism and highlights several European case studies where projects or activities have had sustainability at their core with tangible results.
While the cruise tourism industry faces a significant environmental mandate, the report finds that there is a plethora of green technological solutions available or in development.
The report finds that the cruise tourism industry is considered proactive in trying to improve destination management, reduce its impact on the environment and increase its levels of social responsibility.
But what is good practice? Good practice enhances collaborative efforts between stakeholder groups. It contributes to, facilitates and/or stimulates collaboration across these groups and is measurable.
Seven examples (out of many others) are described in more detail in the Good Practices Report.
Responsible tourism in practice
Most of the highlighted case studies also contribute to the EU green deal, which focuses mainly on sustainability from an environmental angle.
The report concludes that cruise tourism industry is important for Europe. It contributes to economic activity and generates jobs. Although it only represents a small fraction of total global tourism, Europe is the second biggest cruise market after North America, both as a source of passengers and as a cruise destination.